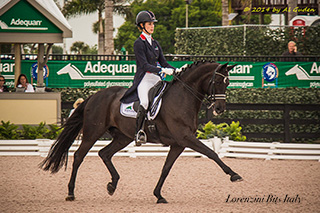 Caroline Roffman & Her Highness O



Closeout. Call for availability on Lorenzini items.
Made in Italy, The Lorenzini Bits combine the natural beneficial characteristics of pure Titanium with the beauty and elegance of European craftsmanship. Lorenzini Titanium Bits feature:
Antibacterial

Biocompatible with the Body

Non-Toxic and Hypoallergenic

Superior Strength

Strong Ionization and Electro Semi-Conduction Qualities

Lightweight

Increases Saliva

Decreases Muscle Stiffness and Pain

Corrosion Resistant

Low Heat Conduction

No Maintenance, clean with soap and water
Lorenzini Titanium Bits are offered in Loose Ring, Dee Ring, Pelham, Egg Butt, Full Cheek, Baucher, Show Jump, Bradoon and Weymouth models, with a choice of sizes and mouthpieces. Suggested retail range from $200-$280.
Please call (540) 955-2179 or email to LAPOGEE@aol.com for more information.